Find out more about your history & ancestors.
The Fusilier Archive holds a wealth of information on the history of the Lancashire Fusiliers and The Royal Regiment of Fusiliers.
If you are interested in discovering more about your Fusilier ancestors then we are here to help!
Please note there is a £35 charge for this service.
We have access to the following information and resources in The Fusilier Archive: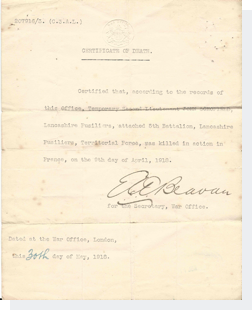 Original source material (books, photographs, documents) on the history of the Lancashire Fusiliers
All medal roles from 1799 – 1902 (Campaigns)
Records of honours and awards from 1799 – present day with citations for awards for WWI and WWII. This includes all 19 Victoria Crosses won by the Regiment.
Details of 9,500 men who enlisted between 1881 – 1902 in the two regular battalions (1st and 2nd)
Casualty lists for the Crimean War, Indian Mutiny, Sudanese War, Boer War, WWI, WWII
All soldiers killed in action (from any regiment)
All campaigns and burial sites of all WWI and WWII soldiers of the regiment
Edited WWI diaries and regimental journals dating from 1891 to the present day
The movements and actions of the regiment during WWI
Access to existing WWI service records and pre 1913 soldiers pension / service records of all regiments
1920 Onwards, The Second World War and Post War
Please note that soldiers' army service records from 1920 onwards are held in the Army Personnel Centre in Glasgow and are only available to the next of kin.
Contact:
The Army Personnel Centre
Historical Disclosures MP 555
Kentigern House
65 Brown Street
Glasgow
G2 8EX
Or Via
Veterans UK website
www.gov.uk/government/organisations/veterans-uk
Choose "How to get service records" section, click and follow the links for more information.
We also provide a service which interprets army service records and can provide background detail from the Lancashire Fusiliers regimental history to supplement the information from the Glasgow records if required.
Do you have any unwanted books of military interest or military band CDs and LPs?
The Fusilier Museum would welcome donations of military books and military band CDs and LPs for our Archive and Library or to be sold in the shop to raise funds for the upkeep of the museum. We can collect depending on collection size and distance.
Also welcome are books of any description for our £1 book shelf in the shop
For further information contact Phil Mather
philip.mather@fusiliermuseum.com
0161 763 8971.