Learning: About Your Visit
The Learning Team can assist with planning your visit and are on hand to discuss how your group can get the most out of their visit.
Feel free to download our Hazard Identification sheet and Guidance Notes to help with your visit.
In light of the COVID-19 restrictions, many parents are turning to home schooling while their children aren't able to attend school or visit resources such as our museum.
So we've made some of our teacher packs available to download as an additional resource to use in a home setting. Topics include The First World War and the Homefront during the Second World War. Both are ideal for Key Stage 1 and 2.
We hope you are all staying safe and we hope to see you in the museum soon when we open our doors once again.
How To Book:
To book any of our museum-led sessions, or a self-guided visit to the museum, please contact the museum's Learning team
learning@fusiliermuseum.com
0161 763 8960
You will need the following information to make your booking:
Your preferred date and time of visit (We start all morning sessions at 10.30am and afternoon session at 12.45pm)
School contact details and the name of the lead teacher
Number and age of pupils and the number of staff
Any special needs or requirements that we need to be aware of
Please let us know whether your group will visit the shop during their visit
When you have made your booking, we will send you a confirmation letter including an itinerary, visit guidance notes and a hazard identification sheet to help with your planning.
Supervision:
We recommend the following ratio for supervision whilst at the museum:
1:4 EYFS
1:6 Key Stage 1
1:10 Key Stage 2 and above
Self-guided Visits:
School groups are welcome to explore the museum on a self-guided visit free of charge, but you will not be accompanied by a member of museum staff. We have clipboards, pencils and paper if you would like to borrow these for free.
When exploring the museum on a self-guided visit, we ask that there are enough adults to supervise the children in smaller groups.
Lunch Facilities and Shop:
There are facilities at the museum for pupils to eat packed lunches. We also have a garden outside the museum which can be used at lunchtime, weather permitting. The museum has a well-stocked shop with small items at pocket money prices.
How to Find Us: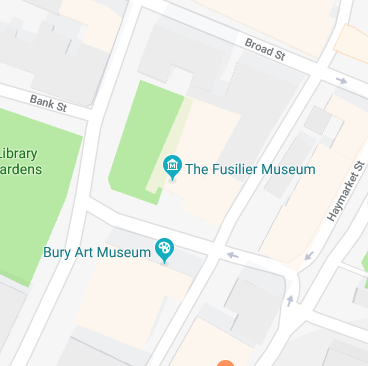 The museum is accessible both by road and public transport. Leave the M66 at Junction 2 and follow the brown tourism signs to the East Lancashire Railway. This will bring you into Bury town centre.
There is a coach drop off point directly outside the museum, on Moss Street, and we are only a five-minute walk from the bus/tram interchange in the centre of Bury.